Troy Harris, Wedding Pianist And Reception Party Entertainment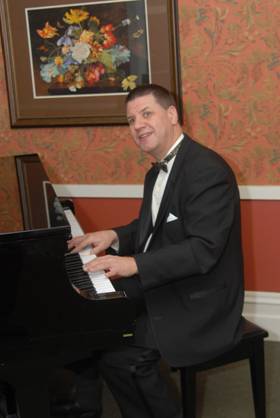 Enjoy The Music of Troy Harris At your next Bridal Ceremony, Reception, or Party!
Troy provides a diverse repertoire of over 600 songs from which he plays by memory. His music is perfect for Wedding Ceremonies, Receptions, Cocktail Hours, Bridal Showers, Rehearsal Dinners, Engagement Parties, Wedding Anniversaries, or Elegant Fine Dining. Discounts are available for Wedding Entertainment Packages.
A complimentary consultation for your wedding
Wedding Ceremonies!
Troy gracefully tailors and customizes every wedding to accommodate each couple. "It is always an honor to serve those who are planning a life together." Personal requests are warmly welcomed. Troy has advised many couples in their song selections of music wedding planning. With a 16 year background as a church musician, Troy brings the gift of experience to your ceremony.
Wedding Receptions and Cocktail Hours! Let The Celebration Continue!
The cocktail hour and wedding reception are equally as important. Troy has provided cocktail and reception music in the Quad Cities since 1985. Come enjoy with Troy as he sets the mood of elegance for your celebration. Troy provides wedding reception music for such clients as the Roy (Pat) Carver family of Muscatine, IA and Jon (Sheila) Noland of Cordova, IL. They chose piano music instead of a DJ. It is live, inexpensive, fresh, and offers a touch of class. Troy also has a mobile piano keyboard with 1000 sampled sounds including a Steinway grand piano, when a piano is not available. Eighty eight keys...10 fingers...no problem!
Troy will truly bring lasting memories with his Magic Fingers.