Iowa - Illinois Pianist, Troy Harris,
Your Senior Retirement Party Entertainment!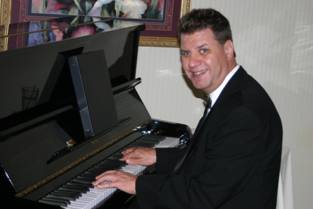 Enrich their Lives with the gift of Music!
Biographical Sketch
Troy Harris is a fun, folksy Piano Man and vocal entertainer with over 700 memorized songs spanning a century of music! He has entertained from Des Moines and Okoboji to the Quad Cities and Western Illinois. His musical talent has allowed him to be pianist for the Bass Street Chop House, Moline, Illinois as well as the Red Crow Grille and the Lodge Restaurant and Hotels, Bettendorf, Iowa. Troy grew up in the Tama County, Iowa area where he brought music entertainment to local seniors. He received his Bachelor of Music from Coe College, Cedar Rapids, Iowa. Since 2003 he has provided music to many Quad City Area retirement and senior living facilities and senior day centers. Troy has been featured by the Quad City Times, Rock Island Argus, Moline Dispatch newspapers and the International Musician Magazine for his music entertainment. He has played for over 750 events in the past three years. Troy is a member of the Quad City Regional Musician's Association.
Music Programs
Troy is experienced with independent, assisted and Alzheimer residents. He offers interactive programs, themed entertainment and soothing background piano music to set the mood. It is definitely an 'Enjoy with Troy' ambience. Troy's 600 song repertoire includes standards, Broadway show tunes, patriotic, light classical, Irish music, waltzes, country, Polkas, Big Band Jazz and your favorite hymns with such cherished names as Irving Berlin, Frank Sinatra, Tony Bennett, Elvis Presley, Hank Williams, Andrew Lloyd Webber and Bill Gaither. Personal requests are always welcomed and encouraged. Troy's music is invaluably therapeutic and beneficial to one's personal life enrichment. Whether it is an open house or a monthly birthday party, a sing-a-long, Holiday Christmas party, or a Santa-for-Hire, be enriched, be entertained and experience 'Enjoy with Troy'! Call (563) 326 – 5811 for more information.
Troy was recently featured on KWQC News. View the video below:
Program Themes
Big Band, Broadway Music, Christmas Music, Elvis, Film Music, Gershwin, Hawaiian Music, Hymns, Irish Music. Love Songs, 1920's 1930's 1940's, 1950's, 1960's, Patriotic Music, Seasons, Sinatra, Spanish Music, TV Tunes, Valentines Music, World War II Music.
Singing Telegrams
Birthdays and anniversaries are great opportunities for a singing telegram personally delivered with sweetness for that special occasion.Troy Harris will personally deliver a song wrapped in smiles and velvet tones to that special someone. Troy's wardrobe includes a tux for those meaningful times when you just want to say I love you. Families or friends incur the cost by sponsoring the telegram without any cost to the Senior Residential Activity Director's budget. Let's bring joy to ones we love and provide more fun entertainment Please inform families and friends of this delightful service.
Budget Friendly

Troy loves seniors and knows that they grew up with the piano.
It is their generation and more budget friendly than karaoke
or a band. Troy wants all folks to be able to enjoy and be enriched by his music

Client Comments
"Our residents always look forward to Troy's entertainment each month. There is no doubt that he connects with their hearts through his music. Troy truly enjoys people and finds a way to make them smile." Joy Lary, Lifestyle Enrichment Coordinator, Bickford Cottage, Muscatine, IA
"Thanks to Troy we are treated regularly to charming performances at the piano. His animated presentation is contagious with his audience, even for those with Alzheimer's disease." Judy Dejonghe, Activity Director, Country House Residence, Davenport, IA
Donate a Piano to a Senior Center:
Senior facilities are often in need of a good piano or electric keyboard. Even if they have one, it may not be in adequate repair or mobile to accommodate everyone. Consider donating your loved ones piano to a favorite retirement center, nursing home or senior day care site. This is excellent therapy for them to play or listen to others play. It is also a great resource for the facility for open houses, themed events or for music vendors who come to entertain residents.
Wanted: Sheet Music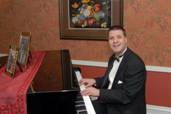 Troy is always expanding his repertoire. He enjoys learning
new songs. Troy has developed a personal library of over
3600 pieces of sheet music. He gladly welcomes your kindly
donated or reasonable sheet music too. Know that
they would be put to good use. Consider a donation and
giving new life to those old songs. Contact Troy at (563)
326 – 5811. He warmly thanks you in advance.